The day after Arts Technica, I stopped by Fab@CIC.
It's not where you would expect a hackspace: in the heart of Boston's Financial District. The shaggy maker funk appeal of this neighborhood -- approaching 0%.
It only makes sense when you know what else is in the building: the Boston branch of CIC (for Cambridge Innovation Center).
CIC is more than an organization. It's an ecosystem. It includes CIC's HQ in Kendall Square, Cambridge; a half dozen other CICs around the world; and related ventures like Venture Cafe, Impact Hub, and District Hall.
CIC has multiple floors, including some dramatic event spaces on the top floor, where it puts on some amazing events, like Arts Technica, which hosted the Mixed Reality Challenge for a night.
Fab@CIC also overlaps with a number of other sprawling networks, like the Design Museum and the Fab Lab network.
The Fab Lab has a truly sprawling constellation of its own, including a FabAcademy
The facility Calendar is worth checking out. Fab@CIC has frequent events, and knowledgeable "contributors" who have regular weekly office hours.
And oh yeah, did I mention that Fab@CIC is co-located with the well-respected Render Coffee?
The Fab Lab connection also insures that the equipment at Fab@CIC is impressive.
Starting with the laser cutter.
Laser Cutting at Fab@CIC
Fab@CIC has a laser cutter with probably the most recognizable name: Epilog.
But, despite the name brand, the path to laser cutting makes a few stops, just like at Cambridge Hackspace.
Here's the checklist posted above Fab@CIC's laser cutter: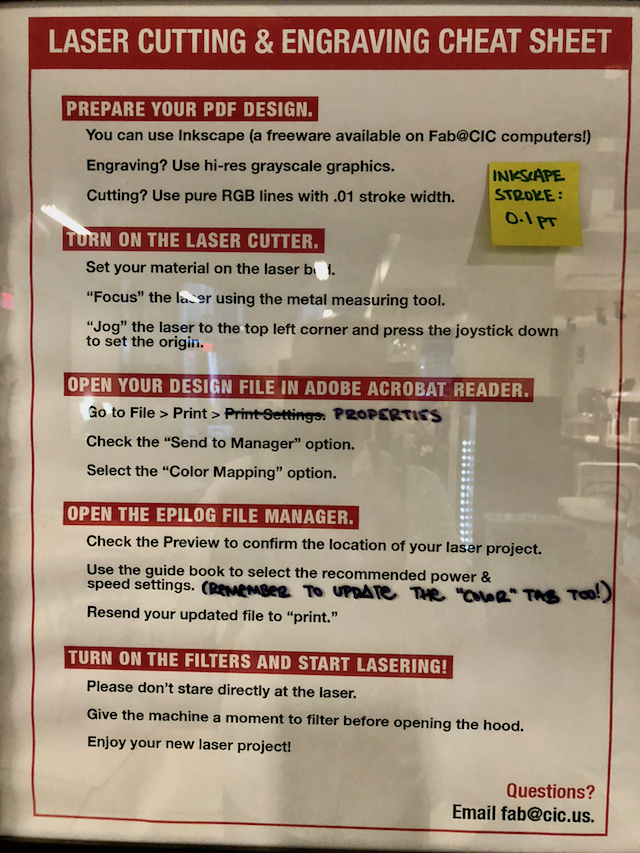 Note that the preferred format is PDF, and the path goes from Inkscape, to Adobe Acrobat Reader, to Epilog File Manager.
The laser will cut any line that's 0.1 point in Inkscape. It will etch anything else.
Expertise
Fab@CIC is unusual among makerspaces in that it has expert "contributors," who, in return for reduced fees, (or maybe no fees, I haven't asked) hang out for a few hours each every week. A paid technology "support" person is also on site about 20-30 hours a week.
This is significantly different than most makerspaces, where answers to most questions are provided by any kind and accommodating members who happen to be around.
When I first started stopping by Fab@CIC, Jack Greenfield, a recent MIT graduate, was the staff technology guy.
As my questions, and his answers, got longer, I could feel a new version of the gumball machine, v3, starting to take shape.
The way it went, usually: I would describe an idea or a technological approach I was considering, and Jack would say, "Nah, you don't want to do it that way. You should be thinking/using/considering... "
And I would get out my reporter's notebook and start writing.
Sometimes, Jack would take a few notes himself, and the next time I saw him he'd have a sketch, or a rendering to look at.
Eventually, an entirely new gumball machine began to emerge, with an entirely new device at its core: a stepper motor, instead of a servo.