This camera from Sony has an obvious target market: vloggers, and content creators, and aspiring influencers who are ready to graduate from their smartphones.
Not a bad marketing plan.
The features Sony added, and the ones it trumpets in pursuit of this market, might be features that are totally unnecessary for you.
For example, the ability to shoot glowing selfies -- you may never appear in your videos.
The selfie orientation on the ZV-1 also extends to the microphone, trained on a selfie narrator.
A "product shot" feature makes it easy to hold up a product, always a make-up product in the promos. The "product shot" feature will automatically focus on that make-up brush or lipstick. Again, maybe not you.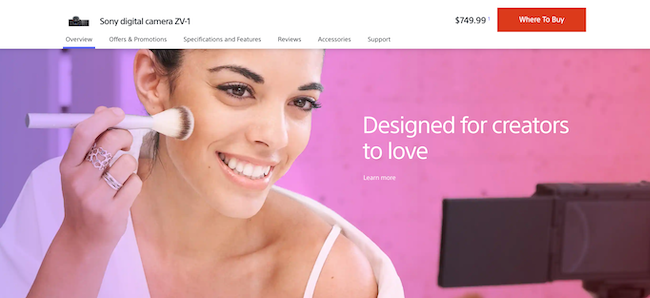 Not you.
So what do you like about the ZV-1?
First, it has a significant sensor (a 1.0"-type (0.52" x 0.35") Exmor RS® CMOS sensor, aspect ratio 3:2) that's normally available only in more expensive cameras.
It also has the Sony user interface, which you've gotten used to.
All the features that make it easier to quickly shoot and upload photos and videos. You like that.
The price (around $750) is the most you're willing to spend on a camera.
Max recommended it, and he's got one, so you can bounce your naive ZV-1 observations and questions off a much more experienced and talented photographer.
The broader "content creator" orientation is one that roughly aligns with what you're interested in, so new features will probably try to stay current with evolving practices and specs in that area. Super subtle, obsessive image geekiness -- you're not really interested in that, and neither is the ZV-1 developer team.
Get it on Amazon, here.